Cirque Du Soleil Ovo Sydney
When:
September 19, 2012 @ 12:00 am – 1:00 am
2012-09-19T00:00:00+00:00
2012-09-19T01:00:00+00:00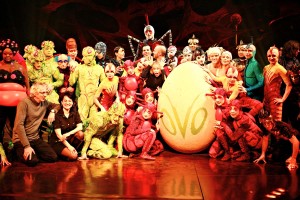 Cirque Du Soleil Ovo Sydney Corporate Hospitality
A Cirque Du Soleil Ovo Sydney Corporate Hospitality package is the perfect cultural client entertainment event. Its broad appeal means that every important business relationship will be enthralled by the magic of this amazing event.The show is being held at The Showring at the Entertainment Quarter.
About Cirque du Soleil OVO
OVO is a headlong rush into a colourful ecosystem teeming with life, where insects work, eat, crawl, flutter, play, fight and look for love in a non-stop riot of energy and movement. The insects' home is a world of biodiversity and beauty filled with noisy action and moments of quiet emotion.
When a mysterious egg appears in their midst, the insects are awestruck and intensely curious about this iconic object that represents the enigma and cycles of their lives.
It's love at first sight when a gawky, quirky insect arrives in this bustling community and a fabulous ladybug catches his eye – and the feeling is mutual.
OVO is overflowing with contrasts. The hidden, secret world at our feet is revealed as tender and torrid, noisy and quiet, peaceful and chaotic. And as the sun rises on a bright new day the vibrant cycle of insect life begins anew.
Cirque Du Soleil Corporate Hospitality Packages:
VIP Rouge packages are the perfect Cirque Du Soleil Ovo Sydney Corporate Hospitality package. They include:
The best seats available
Delectable food and wines served with Cirque du Soleil flair
Complimentary parking
Executive welcome and five-star hospitality
Special Cirque du Soleil festive atmosphere including original music and a display of colours and styles in a stunning environment
Take home souvenirs including exclusive show program.
More information on corporate hospitality packages:
These packages can be booked directly with Cirque Du Soleil.
Does your organisation engage in a large amount of corporate hospitality? For more information on these packages, and our premium Corporate Hospitality Advisor subscriptions, please contact us
Inclusion Matrix
Reviews
Map
Brochures
Video
"Cirque du Soleil turns bug's world upside-down in spectacular OVO." Chicago Sun-Times
"Cirque du Soleil OVO: Bugging out extravagantly under the big top." "OVO is the latest in a long and very distinguished line that have been coming to Chicago for two decate." Chicago Tribune
"An exotic insect world aims to delight imaginations  " "Cirque achieves a fanciful illusion " Metromix
"Cirque du Soleil 'OVO' delivers the unbelievable " " For two hours, the audience member slowly becomes part of Cirque's world and will start to think that those are real giant ants spinning real giantsfruits in the air " Cincinnati Enquirer
"OVO Presents lavish look at world of insects" "Cirque hatches visual stunner" Houston Chronicle
"OVO is an astonishing showcase of superhuman feats of strength, balance and contortion" Houston Press "Cirque du Soleil OVO: an experience like no other" Houston Style Magazine



© Corporate Hospitality Advisor. 2012. All Rights Reserved