Test Match Australia vs India Gabba
When:
December 3, 2014 – December 8, 2014
all-day
2014-12-03T22:00:00+00:00
2014-12-08T22:00:00+00:00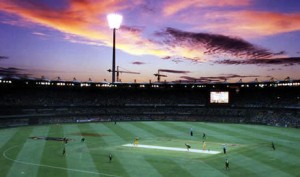 1st CommBank Test – Australia vs India
Thursday 4th to 8th December 2014, The Gabba
Australia play India at the Gabba in this years revised Summer test match schedule. Traditionally, there have been 5 test matches. This year, Perth has missed out, making it a 4 test Series. Powerhouses India will ensure a captivating summer of Test Cricket ahead of the 2015 Cricket World Cup.
Corporate Hospitality options on offer:
The Gabba is a modern stadium and its corporate hospitality facilities were well thought out and designed. Package types for the Australia vs South Africa Test Match Gabba include:
Gabba Corporate Suites & VIP Lounges (indoor/outdoor facilities, not to be confused with a VIP Box).
Gabba VIP Boxes (outdoor facilities)
Numerous dining rooms that overlook the playing surface.
Dining rooms that do not overlook the playing surface.
More information:
Our AdvisorGrid below tables corporate hospitality available.
Does your organisation engage in a large amount of corporate hospitality? For more information on these packages, and our premium Corporate Hospitality Advisor subscriptions, please contact us
Related events:
AdvisorGrid
Video/Images
Map
Package Details
Catering information
AU vs SA Test Days 1-3
More Expensive
More affordable
Inclusion Type
First XI Dining
Corporate Suite
VIP Lounge
VIP Box
Champions Room
Legends Club
Straight Hit
General
Fixed Numbers
X
12 or 18
12 or 18
8,9,10,11,12
X
X
Flexible Numbers
X
X
X
X
Package start time
10am (TBC)
10am (TBC)
10am (TBC)
10am (TBC)
10am (TBC)
10am (TBC)
10am (TBC)
Package finish time
6pm (TBC)
6pm (TBC)
6pm (TBC)
6pm (TBC)
6pm (TBC)
6pm (TBC)
6pm (TBC)
Facility overlooks pitch
No
N/A
Food and Beverage
Sit down meal
3 courses
X
X
X
3 course lunch
X
X
Sit down buffett style
X
Your choice
Your choice
X
X
Yes
X
Stand up (cocktail/canape)
X
Your choice
Your choice
In seat meal
X
X
X
Vegetarian/Gluten Free options
N/A
Beer selection
XXXX, Gold
Your choice
Your choice
Your choice
XXXX, Gold (5 hour package)
XXXX, Gold (one hour package)
X
Wine Selection
Red, White, Sparkling
Your choice
Your choice
Your choice
Red, White, Sparkling (5 hour package)
Red, White, Sparkling (1 hour package)
No drinks included, cash bar only
Spirits Included/Available?
X
Your choice
Your choice
Your choice
X
X
X
Tea/Coffee/Softdrinks
Your choice
Your choice
Your choice
X
Seating
Location
Western Stand
Various
Eastern/Western Grandstands
Various
Northern Grandstand
Western Grandstand
Southern Grandstand
View of pitch
45 degrees across wicket
Various
Various
Various
25 degrees across wicket
45 degrees across wicket
Straight down wicket
Public Seating (in GA Areas)
X
X
X
X
X
X
Padded and extra legroom
Drinks during game (in-seat)
X
Personal steward
Personal steward
X
X
X
X
Drinks during game (self service)
X
X
Esky in box
TV monitiors in facility/seats
X
Experiences
Meet cricket identities
X
X
X
X
X
X
X
Access player areas
N/A
N/A
N/A
N/A
N/A
N/A
N/A
Access playing surface
N/A
N/A
N/A
N/A
N/A
N/A
N/A
Entertainment
Master of Ceremonies
X
X
X
X
X
X
Guest Speakers
X
X
X
X
X
X
Live music
N/A
N/A
N/A
N/A
N/A
N/A
N/A
Business Card Draw
General
Apparel/Gift
CA Hat
X
X
X
X
CA Hat
Match Day Programs
Car Parking Passes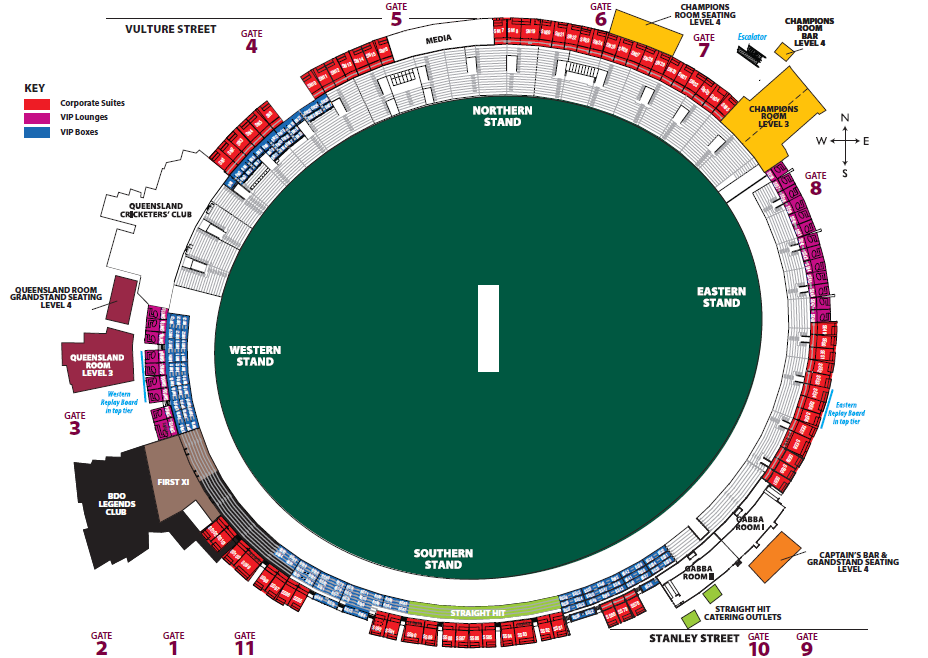 © Corporate Hospitality Advisor. 2012. All Rights Reserved