AFL Finals Series
When:
September 4, 2014 – September 20, 2014
all-day
2014-09-04T22:00:00+00:00
2014-09-20T22:00:00+00:00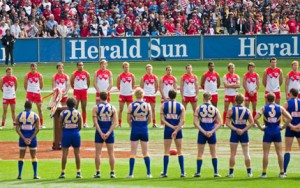 2014 AFL Finals Series Corporate Hospitality
The current AFL finals system began to be used in 2000 as its end-of-season championship playoff tournament. The highest-ranked eight teams in the regular season standings participate in a four-week tournament, with two teams eliminated in each of the first three weeks. The seventh team is eliminated (and the premiership awarded) in the grand final in the fourth week. The system is designed to give the top four teams an easier road to the Grand Final than the second four teams. The top four needs to win only two finals to reach the Grand Final, while the second four needs to win three; and, two of the top four teams receive a bye in the second week of the playoff and then play at home in the third week, while the other two play at home in the second week.
Corporate Hospitality packages available:
The MCG features a range of corporate hospitality packages for each AFL Finals Series match. The luxuriously appointed suites offer privacy and comfort, whilst the dining options are a great way to spend an evening with your clients. Prices start at $350pp for dining packages all the way up to $700pp for a private suite for Week 3 matches.
More information on these packages:
Please call us on 1300 660 509 for more information or contact us Does your organisation entertain clients using corporate hospitality at major events on a regular basis? For more information on these packages, and our premium Corporate Hospitality Advisor subscriptions, please contact us
Related events:
MCG Corporate Boxes ANZAC Day Corporate Hospitality Packages
AdvisorGrid (Subscribers only)
Facility Map
Vidoes/Photo gallery
Reviews
Menus
Subscribers only. Call 1300 660 509
Subscribers only. Call 1300 660 509
Subscribers only. Call 1300 660 509
Subscribers only. Call 1300 660 509



© Corporate Hospitality Advisor. 2012. All Rights Reserved