Chitty Chitty Bang Bang Melbourne
When:
January 30, 2013 @ 12:15 am – April 21, 2013 @ 2:15 am
2013-01-30T00:15:00+00:00
2013-04-21T02:15:00+00:00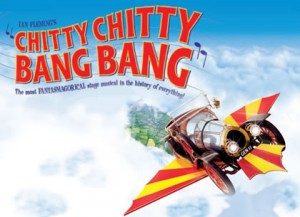 Chitty Chitty Bang Bang Corporate Hospitality Melbourne
Chitty Chitty Bang Bang Corporate Hospitality Melbourne are on sale now.
After thrilling audiences on the West End, CHITTY CHITTY BANG BANG finally lands on the Australian stage!
Sensational sets, stunning special effects, an irresistible story, and an unforgettable Sherman Brothers score, including memorable classics like "Truly Scrumptious", "Hushabye Mountain", and, of course, the Oscar®-nominated title song, all add up to a blockbuster musical that everyone will love.
Entertain your valued clients with a Chitty Chitty Bang Bang Corporate Hospitality package.
The show runs from 30th Janaury to 21st April 2013 at the Her Majesty's in Melbourne
Corporate Hospitality packages available:
There are a range of Chitty Chitty Bang Bang Corporate Hospitality Melbourne packages, from basic ticket and program packages to dinner and show corporate packages.
Pre-show dinner at a CBD restaurant
Premium ticket
An official CHITTY CHITTY BANG BANG program per couple
A glass of Australian Sparkling Wine per person
An Ice Cream per person
A box of chocolates per couple
Souvenir lanyard per person
Access to discount parking
More information on Chitty Chitty Bang Bang Corporate Hospitality Melbourne:
Please contact us
Does your organisation engage in a large amount of corporate hospitality? For more information on these packages, and our premium Corporate Hospitality Advisor subscriptions, please contact us
Inclusion Matrix
Review
Map
Images/Video
Package details
Chitty Chitty Bang Bang Review
London Palladium Lyn Gardner The Guardian
You can hardly have anything but a good time at Chitty Chitty Bang Bang, because Adrian Noble's production is so determined that you will. There is nothing like old-fashioned excess to make an audience feel it is getting its £42.50's worth.
Chitty has more sets than even the biggest, brashest 1980s musical, more changes of clothes than Victoria Beckham, so many cast members that the stage sometimes resembles Oxford Circus tube station at rush hour, as well as oodles of cute kids, winsome dogs, Heath Robinson-style machinery, silver and gold confetti falling on the audience and sufficient fairy lights to worry the national grid. It is as if Noble has made a theatrical effects shopping list and then just thought, hell, I've got the budget so we'll have the lot.
The result is like a glorious, gaudy and very vulgar pantomime. And that's before we even get to the car that flies - actually rather more lumbering and less impressive than it is cracked up to be. In the circumstances, and in the face of so much spectacle, the performances might seem pretty incidental, but the new cast are actually rather scrumptious.
Gary Wilmot is an infinitely more attractive, far less self-obsessed Caractacus Potts than Michael Ball. Russ Abbot brings real flair and a lesson in comic timing to Grandpa Potts. Caroline Sheen's Truly is just the right side of bumptious. And, as the Child Catcher, Wayne Sleep cleverly negotiates that fine line between the absolutely terrifying and the downright ridiculous. These are performers who are never going to be out-acted by the scenery.
The production and design do so much of the work for the audience that you could argue it leaves little to the imagination. The second half is over-extended by Baron Bomburst and his wife, who you wish would both buzz off to Brazil a little quicker, and the entire show is very definitely designed for the theatrically sweet-toothed. But with such Rolls-Royce production values, this old banger can't help but spread a little West End happiness.



© Corporate Hospitality Advisor. 2012. All Rights Reserved