VRC Derby Day Marquees
When:
October 31, 2013 – November 1, 2013
all-day
2013-10-31T22:00:00+00:00
2013-11-01T22:00:00+00:00
Where:
Flemington Racecourse
Victoria
Australia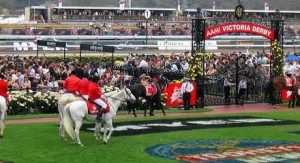 2014 AAMI Derby Day Marquees, Flemington
The Spring Carnival is one of the must do events on the corporate entertainment calendar for Melbournians and Australians alike. Every year, thousands fly in to attend the Melbourne Cup Carnival on either Derby Day, Melbourne Cup Day, Oaks Day or Stakes Day.
Derby Day is considered the Horse Racing purists Day of Days, with the highest quality races out of the 4 days. It's also the first day of the carnvial, with crowds of over 100 000 now a common occurence.
The most popular enclosure for companies entertaining their clients is the Winning Post Enclosure. Nestled inside the track directly opposite the Winning Post, it provides a fantastic location with plenty of space. Deluxe hard walled marquees, with double story floor to ceiling glass frontages create a village style atmosphere, with the village square featuring entertainment, TAB and Bookie facilities and more. A private grandstand is provided exclusively for Winning Post Enclosure Guests (Garden View facilities only).
The ultimate Derby Day Marquees are the Absolute Elevated Winning Post facilities. These double story marquees provided sweeping views of the Winning Post, Flemington Racecourse Grandstands, the home straight and surrounding areas. Each marquee has their own private viewing balcony, so guests can soak up the atmosphere and hear the thunder of the hooves as each race flies by.
Both Elevated and Garden View Marquees are offered with a choice of dining – sit down or cocktail style. Some guests prefer the slightly less formal cocktail menu, allowing guests to move about freely during the day. Other guests prefer a more formal sit down option.
Corporate Hospitality Advisor recommends Mercury Principle Events for all your Spring Racing and Derby Day Marquee requirements. Their official association with the Victorian Racing Club and Flemington is unsurpassed, being the longest serving official supplier. For more information about MPE and their fantastically apppointed marquees, go to www.derbydaymarquees.com.au
AdvisorGrid (subscribers only)
Facility Maps
Reviews
Inclusions
Photos/Videos
Subscribers only. Call 1300 660 509
Subscribers only. Call 1300 660 509
Subscribers only. Call 1300 660 509
Subscribers only. Call 1300 660 509



© Corporate Hospitality Advisor. 2012. All Rights Reserved