State of Origin QLD
When:
July 8, 2015 @ 8:00 am – 1:00 pm
2015-07-08T08:00:00+00:00
2015-07-08T13:00:00+00:00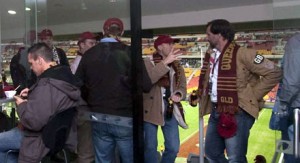 2015 QLD State of Origin Corporate Hospitality
Game 3: Wednesday 8th July 2015
State of Origin is now firmly entrenched on the list of "must do" events for companies wishing to entertain clients at major sporting events. Now that NSW have recorded their first series win in 8 years, interest in the Rugby League showcase has never been higher, with record crowd attendances and television ratings. This is especially the case north of the border.
Looking to entertain your valued clients at this years State of Origin series at Suncorp Stadium? Or perhaps you'd like to catch a game in style with family and friends? State of Origin Hospitality is the premiere resource to research and compare a range of packages in the market place.
On the State of Origin Hospitality website, you will find a range of State of Origin Corporate Hospitality packages for all three games.
State of Origin Corporate Hospitality package types:
There is a wide range of corporate hospitality packages available for the State of Origin series. They include:
Experiential Corporate Hospitality – the ultimate State of Origin Corporate Hospitality experience for high level entertaining (CEO/MD type guests). These experience can include visits to the dressing rooms, walking onto the playing surface and watching the game with past and present Rugby League identities and players
State of Origin Corporate Boxes (outdoor, open air facilities) at Suncorp Stadium
State of Origin Corporate Suites (indoor/outdoor facilities) at Suncorp Stadium
Onsite dining packages (corporate hospitality inside the stadium with seating)
Offsite dining packages (corporate hospitality outside the stadium with seating) with functions held in and around Paddington
Accommodation and Ticket packages (no corporate hospitality component)
More information
Visit State of Origin Hospitality, a dedicated resource for State of Origin Corporate Hospitality packages
Related events:
NRL Grand Final Corporate Hospitality packages
NRL All Stars Corporate Hospitality packages
Inclusion Matrix
Need To Know
Map
Package Details
Price Guides



© Corporate Hospitality Advisor. 2012. All Rights Reserved