ODI Australia vs South Africa SCG
When:
November 22, 2014 – November 23, 2014
all-day
2014-11-22T22:00:00+00:00
2014-11-23T22:00:00+00:00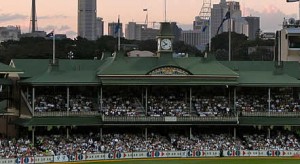 5th Carlton Mid ODI Series Australia v South Africa
Sunday 23rd November 2014, Sydney Cricket Ground
Australia plays South Africa at the SCG .
Corporate Hospitality packages available:
This range includes
SCG Corporate Suites
SCG Corporate Boxes (open air)
SCG Corporate Dining Rooms
Lounge style packages.
Corporate Hospitality at a cricket match offers plenty of time to be able to talk to your clients and get to know them. Therefore it is crucial that you choose a package that is comfortable and will suit the level of guest you are inviting. It is worthwhile remembering that January can be exceptionally hot and the cricket is one of the longest sporting events you can attend (8 hours plus). Booking a corporate package where you can escape to an indoor, air-conditioned area whilst still being able to watch the game is desirable. There are approximately 3 to 4 official suppliers of SCG Corporate Hospitality for this summers cricket season.
Check out our AdvisorGrid below to compare some of the packages.
More information:
Does your organisation entertain clients using corporate hospitality at major events on a regular basis? For more information on these packages, and our premium Corporate Hospitality Advisor subscriptions, please contact us
Related events:
AdvisorGrid
Need To Know
Map
Package Details
Price Guides
AU vs SL ODI 20th Feb 2013
More Expensive
More Affordable
Inclusion Type
Private Suite
Corporate Box (open air)
Licensed Provider Dining Package
Brewongle Suite
Spinners Club
Century Club
Lounge Package
General
Fixed Numbers
16 or 20



© Corporate Hospitality Advisor. 2012. All Rights Reserved