MCG Corporate Hospitality
When:
August 1, 2012 – August 30, 2012
all-day
2012-08-01T22:00:00+00:00
2012-08-30T22:00:00+00:00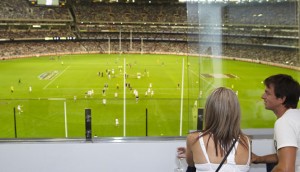 MCG Corporate Hospitality – 2014 AFL Season
MCG Corporate Boxes and MCG Corporate Dining packages have always been a popular corporate hospitality option in Melbourne. The MCG has a range of corporate hospitality packages for all AFL Premiership home and away games. The luxuriously appointed suites offer privacy and comfort, whilst the dining options are a great way to spend an evening with your clients. Prices start at $350pp for dining packages all the way up to $700pp for a private suite for high demand events such as ANZAC Day clash.
The MCG Corporate Boxes (also referred to as MCG Corporate Boxes) are the ultimate corporate hospitality option. Box capacities range from 12 to 18 guests. Dining rooms such as the Jim Stynes Room offer more affordable entertaining in a relaxed atmosphere.
Prices vary from game to game. For example, a blockbuster game between Collingwood and Carlton may be priced from $500 to $550pp, whereas a game featuring a less popular Melbourne based team playing a poorly performing interstate team may only be priced at $300 to $350 per person. From a client entertainment perspective, Friday night games are generally more popular than weekend games.
There are approximately 12 different suppliers that offer corporate hospitality at the MCG.
So if it's CEO/MD type client entertainment, or an afternoon at the football with suppliers and staff, there are a range of options on offer. Talk to us today about these options, plus other opportunities in the marketplace that are on offer.
AdvisorGrid
Video & images
MCG Map
Brochure Downloads
2012 AFL Draw
MCG Corporate Hospitality
More Expensive
More Affordable
Inclusion Type
16-18 person suite
12-14 person suite
Executive Suite (50 people)
Executive Suite (10-40 people)
Jolimont Club
Dining Package
Club Package
General
Fixed Numbers
16/17/18 people only
12/13/14 people only
50 people (exclusive use)
Tables of 10
Multiples of 2 (seasonal)
Tables of 10
Flexible Numbers
Pre Match Hospitality
Post Match Hospitality
Package Duration
5 hours
5 hours
5 hours
5 hours
5 hours
5 hours
5 hours
FOOD AND BEVERAGES
Sit down set menu
Sit down buffett style
STAND UP MEAL (CANAPE/COCKTAIL)
Optional
Optional
Vegetarian/Gluten Free options
Beer Selection
Crown Lager /Peroni/ Cascade Light
Crown Lager/ Peroni/ Cascade Light
Crown/Pure Blonde/Cascade Light
Crown/Pure Blonde/Cascade Light
Crown/Pure Blonde/Cascade Light
Crown/Pure Blonde/Cascade Light
Crown/Pure Blonde/Cascade Light
Wine Selection
Shiraz/Sauv Blanc/Champagne
Shiraz/Sauv Blanc/Champagne
Cab Sauv/ Semillion/ Sparkling
Cab Sauv /Semillion/ Sparkling
TBC
TBC
TBC
Spirits Included/Available?
At additional expense
At additional expense
Not available
Not available
Not available
Not available
Not available
Tea/Coffee
Seating
Location
L3 Various locations
L2 - Various locations
Pocket L3 Ponsford
Pocket L3 Ponsford
TBC
Level 2 Olympic Stand
Various
Private Seating (separate from GA)
Public Seating (in GA Areas)
Drinks during game (in-seat)
Drinks during game (self service)
TV monitiors in facility/seats
experiences
meet personalities
Optional
Optional
Behind the scenes
Test
Entertainment
Master of Ceremonies
Guest Speakers
Live music
Business Card Draw
General
Apparel/Gift
X
Match Day Programs
Car Parking Passes
2 per suite
2 per suite
1 per 2 packages
2 per table
Information on MCG Corporate Boxes
Subscribers only.
Call us on 1300 660 509
2012 AFL Games at the MCG
| | | | | | | | | | | | | |
| --- | --- | --- | --- | --- | --- | --- | --- | --- | --- | --- | --- | --- |
| ROUND | DAY | DATE | MONTH | TIME | HOME | V | AWAY | Suite | Exec Suite | Dining | Lounge | Price PP |
| Round 1 | Thursday | 29 | March | 7:40pm | Richmond | v | Carlton | 12/16/18 | 30/40/50 | 10 | Any | |
| Round 1 | Friday | 30 | March | 7.50pm | Hawthorn | v | Collingwood | 12/16/18 | 30/40/50 | 10 | Any | |
| Round 1 | Saturday | 31 | March | 1.40pm | Melbourne | v | Brisbane Lions | 12/16/18 | 30/40/50 | 10 | Any | |
| Round 2 | Saturday | 7 | April | 7:40pm | Collingwood | v | Richmond | 12/16/18 | 30/40/50 | 10 | Any | |
| Round 2 | Monday | 9 | April | 3.10pm | Geelong | v | Hawthorn | 12/16/18 | 30/40/50 | 10 | Any | |
| Round 3 | Friday | 13 | April | 7.50pm | Collingwood | v | Carlton | 12/16/18 | 30/40/50 | 10 | Any | |
| Round 3 | Saturday | 14 | April | 1.45pm | Richmond | v | Melbourne | 12/16/18 | 30/40/50 | 10 | Any | |
| Round 3 | Sunday | 15 | April | 3.15pm | Hawthorn | v | Adelaide Crows | 12/16/18 | 30/40/50 | 10 | Any | |
| Round 4 | Saturday | 21 | April | 1.45pm | Carlton | v | Essendon | 12/16/18 | 30/40/50 | 10 | Any | |
| Round 4 | Sunday | 22 | April | 4.40pm | Melbourne | v | Western Bulldogs | 12/16/18 | 30/40/50 | 10 | Any | |
| Round 5 | Wednesday | 25 | April | 2:40pm | Collingwood | v | Essendon | SOLD | SOLD | SOLD | SOLD | |
| Round 5 | Saturday | 28 | April | 7.40pm | Melbourne | v | St. Kilda | 12/16/18 | 30/40/50 | 10 | Any | |
| Round 6 | Saturday | 5 | May | 7.40pm | St. Kilda | v | Hawthorn | 12/16/18 | 30/40/50 | 10 | Any | |
| Round 7 | Friday | 11 | May | 7.50pm | Melbourne | v | Hawthorn | 12/16/18 | 30/40/50 | 10 | Any | |
| Round 7 | Saturday | 12 | May | 4.40pm | Richmond | v | Sydney Swans | 12/16/18 | 30/40/50 | 10 | Any | |
| Round 8 | Friday | 18 | May | 7.50pm | Collingwood | v | Geelong Cats | 12/16/18 | 30/40/50 | 10 | Any | |
| Round 8 | Saturday | 19 | May | 7.45pm | Essendon | v | Richmond | 12/16/18 | 30/40/50 | 10 | Any | |
| Round 9 | Saturday | 26 | May | 1.45pm | Richmond | v | Hawthorn | 12/16/18 | 30/40/50 | 10 | Any | |
| Round 9 | Sunday | 27 | May | 3.15pm | Carlton | v | Melbourne | 12/16/18 | 30/40/50 | 10 | Any | |
| Round 10 | Saturday | 2 | June | 7.40pm | Essendon | v | Melbourne | 12/16/18 | 30/40/50 | 10 | Any | |
| Round 10 | Sunday | 3 | June | 4.40pm | Collingwood | v | Gold Coast Suns | 12/16/18 | 30/40/50 | 10 | Any | |
| Round 11 | Saturday | 9 | June | 2.10pm | Richmond | v | Fremantle | 12/16/18 | 30/40/50 | 10 | Any | |
| Round 11 | Monday | 11 | June | 3.15pm | Melbourne | v | Collingwood | 12/16/18 | 30/40/50 | 10 | Any | |
| Round 12 | Sunday | 17 | June | 1.10pm | Hawthorn | v | Brisbane Lions | 12/16/18 | 30/40/50 | 10 | Any | |
| Round 13 | Saturday | 23 | June | 4.40pm | Collingwood | v | West Coast | 12/16/18 | 30/40/50 | 10 | Any | |
| Round 13 | Sunday | 24 | June | 3.15pm | Melbourne | v | GWS Giants | 12/16/18 | 30/40/50 | 10 | Any | |
| Round 14 | Friday | 29 | June | 7.50pm | Carlton | v | Hawthorn | 12/16/18 | 30/40/50 | 10 | Any | |
| Round 14 | Saturday | 30 | June | 1.45pm | Collingwood | v | Fremantle | 12/16/18 | 30/40/50 | 10 | Any | |
| Round 15 | Friday | 6 | July | 7.50pm | Collingwood | v | Carlton | 12/16/18 | 30/40/50 | 10 | Any | |
| Round 15 | Saturday | 7 | July | 2:10pm | Melbourne | v | Richmond | 12/16/18 | 30/40/50 | 10 | Any | |
| Round 15 | Sunday | 8 | July | 1.10pm | Hawthorn | v | GWS Giants | 12/16/18 | 30/40/50 | 10 | Any | |
| Round 16 | Saturday | 14 | July | 7.40pm | Geelong | v | Collingwood | 12/16/18 | 30/40/50 | 10 | Any | |
| Round 17 | Saturday | 21 | July | 1.45pm | Collingwood | v | Hawthorn | 12/16/18 | 30/40/50 | 10 | Any | |
| Round 17 | Sunday | 22 | July | 3.15pm | Richmond | v | North Melbourne | 12/16/18 | 30/40/50 | 10 | Any | |
| Round 18 | Saturday | 28 | July | 7.40pm | Carlton | v | Richmond | 12/16/18 | 30/40/50 | 10 | Any | |
| Round 19 | Friday | 3 | August | 7.50pm | Hawthorn | v | Geelong Cats | 12/16/18 | 30/40/50 | 10 | Any | |
| Round 19 | Saturday | 4 | August | 7.40pm | Collingwood | v | St. Kilda | 12/16/18 | 30/40/50 | 10 | Any | |
| Round 19 | Sunday | 5 | August | 1.10pm | Melbourne | v | Gold Coast Suns | 12/16/18 | 30/40/50 | 10 | Any | |
| Round 20 | Saturday | 11 | August | 1.45pm | St. Kilda | v | Melbourne | 12/16/18 | 30/40/50 | 10 | Any | |
| Round 20 | Sunday | 12 | August | 3.15pm | Richmond | v | Western Bulldogs | 12/16/18 | 30/40/50 | 10 | Any | |
| Round 21 | Saturday | 18 | August | 1.45pm | Essendon | v | Carlton | 12/16/18 | 30/40/50 | 10 | Any | |
| Round 21 | Sunday | 19 | August | 4:40pm | Hawthorn | v | Gold Coast Suns | 12/16/18 | 30/40/50 | 10 | Any | |
| Round 22 | Friday | 24 | August | 7.50pm | Richmond | v | Essendon | 12/16/18 | 30/40/50 | 10 | Any | |
| Round 22 | Sunday | 26 | August | 4.40pm | Melbourne | v | Adelaide Crows | 12/16/18 | 30/40/50 | 10 | Any | |
| Round 23 | TBC | TBC | TBC | TBC | Essendon | v | Collingwood | 12/16/18 | 30/40/50 | 10 | Any | |
| Round 23 | TBC | TBC | TBC | TBC | Hawthorn | v | West Coast Eagles | 12/16/18 | 30/40/50 | 10 | Any | |
| Round 23 | TBC | TBC | TBC | TBC | Richmond | v | Port Adelaide | 12/16/18 | 30/40/50 | 10 | Any | |



© Corporate Hospitality Advisor. 2012. All Rights Reserved