Kangaroos vs New Zealand
When:
April 18, 2013 – April 19, 2013
all-day
2013-04-18T14:00:00+00:00
2013-04-19T14:00:00+00:00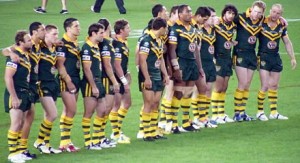 Kangaroos vs New Zealand Corporate Hospitality
Australia will take on the Kiwis in a one off Test Match at Canberra Stadium on Friday 19th April.
Stay tuned for corporate hospitality information.
Article on NRL.com
Canberra will celebrate 100 years as the nation's capital by hosting its first ever Rugby League Test featuring Australia in April 2013.
Australian Rugby League Commission Interim Chief Executive, Mr Shane Mattiske, today joined ACT Deputy Chief Minister and Minister for Sport Andrew Barr, Australian coach Tim Sheens, Raiders Chief Executive, Mr Don Furner, and Raiders Test star David Shillington in Canberra to announce the historic Test, which will be played at Canberra Stadium.
The Test will be the highlight of a week-long Rugby League celebration that will feature a host of community and corporate events showcasing the game's connection with the local region.
"The Canberra Raiders are the most enduring and successful sporting brand in the nation's capital so it's great to be able to celebrate the Centenary of Canberra with a world-class Rugby League Test match between Australia and New Zealand," Mr Mattiske said.
"Canberra was a wonderful host city during the 2008 Rugby League World Cup but to have the Kangaroos playing here for the first time is a great opportunity for local fans to enjoy the excitement, pride and tradition of international Rugby League."
Inclusion Matrix
Need To Know
Map
Package Details
Price Guides



© Corporate Hospitality Advisor. 2012. All Rights Reserved