Test Match Australia vs India MCG
When:
December 26, 2014 @ 8:30 am – December 30, 2014 @ 9:30 am
2014-12-26T08:30:00+00:00
2014-12-30T09:30:00+00:00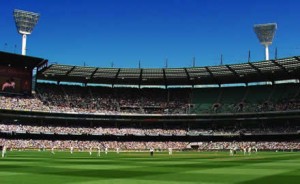 4th CommBank Test – Australia vs. India
Friday 26th to 30th December 2014, Melbourne Cricket Ground
Boxing Day Test Corporate Hospitality is a very popular client entertainment option in December. This year, Australia take on India.
Boxing Day Test Corporate Hospitality packages on offer:
As far as stadiums in Australia go, the MCG has one of the best ranges of corporate hospitality packages.
A summary of the Boxing Day Test Corporate Hospitality packages on offer:
MCG Corporate Boxes (also referred to as MCG Corporate Suites) are the ultimate corporate hospitality option. Box capacities range from 12 to 18 guests.
Executive Suites which can be booked on a syndicated or exclusive basis.
Dining rooms such as the Jim Stynes Room offer more affordable entertaining in a relaxed atmosphere.
Jolimont Club (annual memberships only)
Prices vary for each day of the Boxing Day Test. For example, Day 1 may be priced at $650 per person in an MCG Corporate Box, whereas Day 4 may only cost $350 per person.
An Ashes Corporate Box can be more expensive that this due to the demand. Prices can range between $500 – $800pp.
There are approximately 12 different suppliers that offer corporate hospitality at the MCG.
Be sure to check out our AdvisorGrid below to compare some of the packages.
More information on these packages:
Please call us on 1300 660 509 for more information or contact us
Does your organisation entertain clients using corporate hospitality at major events on a regular basis? For more information on these packages, and our premium Corporate Hospitality Advisor subscriptions, please contact us
Related events:
AdvisorGrid
Video & Images
MCG Map
Brochure Downloads
Catering Information
Boxing Day Test MCG
More Expensive
More Affordable
Inclusion Type
16-18 person suite
12-14 person suite
Executive Suite (50 people)
Executive Suite (10-40 people)
Jolimont Club
Dining Package
Club Package
General
Fixed Numbers
16/17/18 people only
12/13/14 people only
50 people (exclusive use)
Tables of 10
2 people (annual)
Tables of 10
Tables of 10
Flexible Numbers
Pre Match Hospitality
Post Match Hospitality
Package Duration
5 hours
5 hours
FOOD AND BEVERAGES
Sit down set menu
Sit down buffett style
STAND UP MEAL (CANAPE/COCKTAIL)
Optional
Optional
Vegetarian/Gluten Free options
Beer Selection
Crown Lager /Peroni/ Cascade Light
Crown Lager/ Peroni/ Cascade Light
Crown/Pure Blonde/Cascade Light
Crown/Pure Blonde/Cascade Light
Crown/Pure Blonde/Cascade Light
Crown/Pure Blonde/Cascade Light
Crown/Pure Blonde/Cascade Light
Wine Selection
Red/White/Sparkling
Red/White/Sparkling
Red/White/Sparkling
Red/White/Sparkling
TBC
TBC
TBC
Spirits Included/Available?
At additional expense
At additional expense
Not available
Not available
Not available
Not available
Not available
Tea/Coffee
Seating
Location
L3 Various locations
L2 - Various locations
Pocket L3 Ponsford
Pocket L3 Ponsford
TBC
Level 2 Olympic Stand
Various
Private Seating (separate from GA)
Public Seating (in GA Areas)
Drinks during game (in-seat)
Drinks during game (self service)
X
X
X
X
X
X
TV monitiors in facility/seats
Experiences
Meet Personalities
Optional
Optional
Access to player areas
X
X
X
X
X
X
Access to playing surface
X
X
X
X
X
X
X
Entertainment
Master of Ceremonies
X
X
X
X
Guest Speakers
Live music
Business Card Draw
General
Apparel/Gift
X
Match Day Programs
Car Parking Passes
2 per suite
2 per suite
1 per 2 packages
2 per table



© Corporate Hospitality Advisor. 2012. All Rights Reserved